With up to 42L of abundant storage space, edelkrone Backpack is designed for video professionals who need to carry, organize, and protect their pro-sized equipment.
Designed to adapt.
One bag to carry them all,
even JibONE or SliderPLUS!
A massive main compartment with customizable dividers gives endless organization possibilities for the modern videographer/photographer. All edelkrone SliderPLUS models, even JibONE, easily fit. edelkrone Backpack can be converted into an everyday backpack by simply removing the dividers.
Top zipper entry lets you quickly access your camera.
Three interior pockets provide added storage for smaller items like cables, print materials, adapters and more.
The stash pocket positioned on the front side protects smaller items like your keys, phones, etc.
Non-zippered front pocket for fast access.
Ability to fasten a monopod or tripod to the side of the pack with two adjustable straps.
Adjustable, padded shoulder and belt straps for optimal comfort.
Fasteners to eliminate shake and keep your gear in place.
Nine additional separator pads included for full customization, allowing you to divide the main compartment or cap the divisions.
Manufactured using high-quality and durable fabric.
Reviews
Find and read inside stories from users like you!
Customer Reviews
Write a Review
Ask a Question
06/29/2020
Paul D.
United States
It's OK
I find it feels a little cheap and is built more for the slider and much less for the Jib One. It feels overweighted and clunky with the Jib One in there. Like it could burst out. I feel like it would be better with wheels then straps due to the weight when Head Plus joins the party. I probably would have done better with a pelican.
05/26/2020
Jonathan B.
United States
Great backpack to go with my great edelkrone gear!
Nice bag, holds all of my Edelkrone gear perfectly with room to spare for lenses and other essential items. It's very sturdy and well padded too, which means my gear won't get all banged up. With the service we get from Edelkrone, I'm a customer for life. Would highly recommend!
05/13/2020
Marcus E.
United States
Must have bag!
This is a must have! I have the SliderPlus Long, HeadPlus, they both fit very nice in the bag. The bag is comfortable, and sturdy. Being able wear it like a backpack makes transporting very easy.
04/15/2020
Victor S.
United States
Excellent backpack
Excellent product!!
DD
03/27/2020
Douglas D.
United States
Best Backpack Ever
This thing is absolutely amazing! I can fit the Edelkrone Jib, Slider, and HeadPlus all in one bag with enough room left over for accessories. I also strap my tripod on the side. So much easier than carrying around a bunch of random bags, and the backpack is super comfortable. I love it!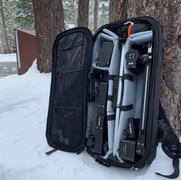 03/25/2020
seok w.
South Korea
very gooooooooooooooooood.
The bag is very large and practical, so I use it every week with satisfaction. Thank you~
01/27/2020
Dean F.
United States
the back pack
Zippers feel cheap and too small. The area where the camera is supposed to fit is too tight for my NikonZ. Really feel it's overpriced. I should of spent time looking for a better backpack that actually fits all my gear.
01/22/2020
Malcolm C.
United States
Such a great bag
I love the build and interior of this bag. The compartments fit my long slider plus 2 cameras and 4 lenses. It's great! Only thing I don't like is the hip straps, wish they were removable. 
12/19/2019
timothy n.
United States
Perfrctoon
Beautifully made.
10/29/2019
Tim K.
United States
Backpack
This pack holds all of my slider and head plus and other things . I.e battery and cables. Sure is nice to have everything in one bag. Only issue is me, to heavy for this old man to carry around when loaded. It does protect all of my edelkrone equipment. I like it, because it works. Tim