Features
that will separate you from the crowd
Unmatched vertical carrying capacity
SliderONE can handle camera loads up to 5 lbs (2.3kg) in absolute vertical operation. This is already the highest carrying capacity in the market at this size. SliderONE PRO with its dual motor body, increases this capacity all the way up to 10 lb (4.5 kg) making it the most powerful motorized slider at this size ever.
Macro-precise camera motion
SliderONE v2 provides the necessary smoothness for ultra macro shots and perfect steady speed control throughout the whole slide thanks to its mechanical design with backlash free gears.
Add FlexTILT Head 2 for better balance on the ground
Unlike any other camera head, FlexTILT Head 2 gives you the chance to adjust your camera's front-back balance no matter what your tilting angle is. The FlexTILT Head 2 also gives you height adjustment. It is a great companion to SliderONE especially when you are using it directly on ground without a tripod.
2 models
based on carrying / incline capacity
SliderONE

v2
Horizontal: 20 lb (9 kg)
Vertical (90°): 5 lb (2.3 kg)
SliderONE PRO

v2
Horizontal: 30 lb (13.6 kg)
Vertical (90°): 10 lb (4.5 kg)
Connects wirelessly
to HeadONE and HeadPLUS
Having a motorized head on SliderONE opens the door to amazing 2-, 3- or 4-axis camera motions which can be easily programmed and repeated. You can record never-before-seen, amazing motion time-lapses and visual effects shots with these combinations. The devices pair instantly in the background while using the same App or controller to control all devices together.
Any combination will be detected automatically and paired seamlessly to work together.
Super easy
time-lapse programming
Setting up a motion time-lapse is the easiest with edelkrone App. In your time-lapse videos, you can have a simple transition between two keyposes or you can convert a recorded complex camera motion into a time-lapse with a single button. You can use edelkrone's unique Dynamic Interval and Dynamic Step Size Technologies to introduce never-before-seen efects to your time-lapses which bend the speed of time and speed of camera motion independently of each other.
Single App
to control all
edelkrone App cleverly scans the available devices in its surroundings and pairs with them automatically, giving you a single screen to control all devices together.
The interface is extremely simple.
Use the controls on the top part of the App screen to set the pose of your camera. Press and hold on any of the keypose buttons to record that pose. Use the same button to recall that pose. It's that simple. Press 2 keyposes to put the system in loop between both keyposes.
You can adjust the speed and acceleration of the transition between keyposes. Or, you can easily create time-lapse videos by using the same keyposes.
App Details.pdf
The App shows you this control screen when there is only one motorized slider discovered around. The keypose, transition speed, transition smoothness adjustments are always available on the main screen.
When you combine your Slider with HeadONE, this is the control panel you'll see. If you add 2 HeadONEs, the tilt adjustment will also appear on the screen. Sequencer feature becomes available when you connect an edelkrone head to the setup.
When you combine your Slider with the HeadPLUS, the App gives you this 4-axis control screen including the focus adjustment. Notice the Target Mode button also becomes available at the bottom for smart target tracking.
After you complete recording a motion, this is the screen which lets you replay the motion recorded. You can also convert it in to a time-lapse or stop-motion via this screen.
This is the time-lapse screen. First, enter your Record Time & Play Time and your FPS settings. Next, set the same shutter speed with your camera in the app & set the interval. Lastly, select the starting and ending keyposes. This way you will achieve a nice motion time-lapse video transitioning between both keyposes.
When you setup your time-lapse, instead of entering a static interval, you can enter a dynamic interval with the help of this graphic. So, you can have an alternating speed of time in your time-lapse video. This feature will not affect the speed of your camera motion. If you start a time-lapse while you are in Target Mode, you will be able to select targets.
When Ramping is on, you can alter the speed of your camera motion throughout your time-lapse video. This graphic helps you adjust the speed of your motion easily.
If you prefer not to use your phone (edelkrone App), and need a dedicated solution, edelkrone Controller will be your best friend. Compatible with all motorized edelkrone sliders, jibs, heads and dollies, edelkrone Controller allows you to easily control any combination of these devices.
Super Accurate Backlash-free Gear Design
All edelkrone motorized products use the same backlash-free gear design technology for perfectly repeatable, smooth motion for even the most demanding shots. Even the most portable edelkrone devices have heavy-duty gears assuring lifetime good performance.
Ultra Quiet Step Motor Driving Technology
All edelkrone motorized devices have a unique quiet step motor driving technology that combines ultra precise step motor positioning ability with ultra quiet operation. Step motors are perfect for precise motion control but until now their downside has been the noise they make. With edelkrone motorized devices, you will get the world's most precise positioning with the quietest performance.
edelkrone Motion Control System
Introduction Video
This video introduces the devices in our motion control ecosystem and describes the commonly-shared key features of these devices.

After watching this video, you will discover the unique features that give amazing powers to creators and see why edelkrone is one of the leaders in the motion control industry.
Reviews
Find and read inside stories from users like you!
Customer Reviews
Write a Review
Ask a Question
09/16/2020
Mordy R.
Israel
great for product shoots
solid, cute little slider. amazing for product shoots
JM
08/03/2020
Joel M.
Australia
Great but...
Package was delivered fast, all worked well, product is of high quality and works very well. But, it is far too slow, you cannot use it for slow motion work not even half speed. The app is a little awkward and fails to recognize one of the items at times and it's frustrating when short on time. It now lives on the shelf gathering dust and I will only use it for very specific uses, not something for regular use as I originally anticipated. Maybe the next model.
07/15/2020
Dave C.
United States
Seamless integration with my workflow
This is my second SliderONE (I had the v1 slider too) and I love this one. It works in tandem with the HeadONE to give you perfect parallax on your shots, and everything is controlled together in the app. It's proven to be an essential tool on most of my projects.
EN
05/21/2020
Erik N.
United States
Great tool for film making
Absolutely delivers and matches the hype. I'm loving my SliderONE and is quickly becoming an essential tool for my film making.
04/24/2020
Guy N.
United States
Amazing
Love this thing! Thanks so much!
KA
04/10/2020
Khaled A.
Kuwait
Smooth shooting
Great product and smooth
02/19/2020
Matthew Y.
United States
Excellent Product
Excellent, excellent product!!! Words can't express how easy it is to use and how fast i got it working. I have grown to expect excellence from Edelkrone and this exceeded my expectations!
02/19/2020
FARID R.
United States
Quiet, smooth and very easy to control.
Unbelievable practical and easy to use app.the device itself is very quiet and smooth and easily pair to app and other edelkrone devices with the same version. I'm so happy with it and strongly recommend it.
02/18/2020
Nick H.
United States
Great slider
Excellent build quality
01/27/2020
Tao H.
New Zealand
Very good
Wonderful products, I can feel the company is really in consider for the costumers!
01/05/2020
Steven M.
United States
01/03/2020
Kien S.
Malaysia
Very Smooth and Quiet
Movement of slider is very smooth from beginning til the end of motion, even at maximum speed. No jittering can be seen from the recorded footage. At maximum speed, the noise is audible but not noisy.
01/02/2020
Andrew B.
United States
Not that smooth and very slow
Product is ok. From my short experience it's still not as smooth as I hoped even with lighter set ups. I used it with the HeadOne. It's moves so slow. So every time I need to restart the motion I have to wait at least 30 seconds to go back to the beginning. Which would be ok, but the micro jitters are pretty annoying.
12/29/2019
Tim N.
United States
Well-built, but noisy and requires phone to use
It feels solid and it works. But for the price I would expect it to be quieter and I would expect to be able to position it manually, then press a button to remember the position. I have to use my phone to operate it (would prefer physical buttons so a phone isn't required for basic operation) and to move it (very slowly) into each position. I also had some issues connecting it to my phone's bluetooth the first time. Though it's been fine since, it worries me when I encounter something like that which could happen on a shoot.
12/29/2019
Rodney a.
United States
World Class Customer Service
Around August of this year, we took the leap of faith and invested in purchasing some Edelkrone equipment. We'd been pleased with it, but we ran into an issue with the SliderOne v2. We reached to the support team and they were beyond helpful and friendly We sent them video of the issue, they worked out some options for us and then sent us a new SliderOne v2. And it works like a charm. Thank you so much to the entire Edelkrone team for not just a great product, but the great service you provide. ☺️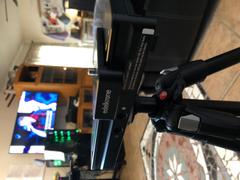 12/17/2019
James B.
United States
They seem to have gotten it right.
I will be using it in a shoot this week. My tests seem to be very sound. I am looking forward to trying it out.
12/11/2019
Jian T.
United States
Amazing product
The product is amazing, the best slider i have ever used for my work. Very quiet and steady and smooth. Totaly recommend it
11/21/2019
Adam R.
United States
Noticeable improvement over the old design
Better mechanics and app make this slider noticeably smoother than its predecessor. The transitions at the travel extents (where most motorized sliders aren't smooth) is much improved!
WV
11/13/2019
William V.
United States
SliderONE v2
I have had the SliderOne from Edelkrone. The first one didnʻt work well, I notified edelkrone and they replaced it right away. Support was great outstanding. When I got it, I went right to working with it. Easy to understand and setup. Works like a charm. I use it for my interviews with people and it just works great. Nice movement, smooth, quiet and good battery. Didnʻt think they could improve on it. I was wrong. Even smoother; works and plays well with all of the other edelkrone items. Only HeadPLUS gave me a little trouble understanding; I watched the tutorials and understood it quickly. Now using v2 and it is fantastic. Set up once and it loops all the times you need. I have yet to experiment with time lapse. Looking forward to that in the next few months when I get a chance to play with it. Worth the money. Happy video making!
11/12/2019
CARTER R.
United States
Extremely Useful
Small and reliable and now part of my portable rig. Sets up in seconds and makes every shot more interesting. I also have a Slider Plus but for may shoots I like having the smaller SliderONE. It's a gem.